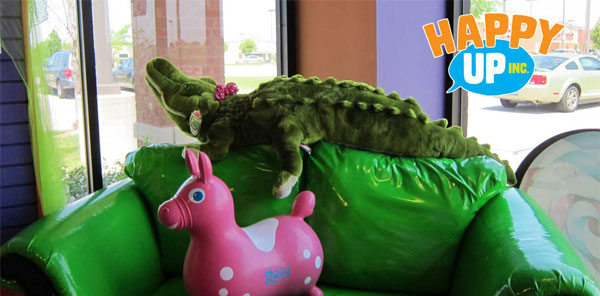 Great Toy Story in Summary
Remember your favorite toy or your child's favorite toy? Toy's are a big part of all of our lives. But for Shawnta Ray and her husband Rick Harmon toys are their lives. They have had a wild ride, and there is not enough room here for all the spills, turns, and lessons learned. This is a worthwhile case study for examining the purchase of a business, the power of crowd-funding, the advice available to help you get into/grow your business, marketing, and many other issues. I also plan to discuss "Happy Up" in different posts and future writings, but today I want to talk about getting into a business and what made their business unique. The reason this is a great toy story is because of all the different elements that we can learn from.
-A young couple buys three toy stores in 2006 and has a great start, a great toy story has gotten underway
-The economic down turn of 2008 hurt, causing them to close two locations and reconsolidate in 2011.
-They are slowly recovering from 2008 when in 2012, for no fault of their own, their building loan is called. This could have been the death blow.
-They are saved by the community raising $82,000 on a crowdfunding site without their prior knowledge.
-In June 2013, they restructured and changed their name to "Happy Up". They are now growing again.
Getting into the Toy Store Business
Ray worked for the previous owner for 10 years, since she was 18 years old. She heard the business was being sold and decided to approach the owner. As the general manager, she knew the stores and inventory well. She discussed it with her husband and they decided to go for it. With a down payment borrowed from their parents and an SBA loan for the balance, they bought the business for $800,000 in 2006. She was only 27 and her husband was 34, but she knew the business well and in just 2 years grew it to over $1,700,000 in revenue. They had three stores with 35 employees and the sky was the limit! Then, the economic downturn of 2008 hit.
Great execution is what made this business take off and is also what allowed it to survive and thrive again.
What Makes "Happy Up" Toy Stores So Special
What makes them so special is personalized service and reaching out into the community.
Small toy stores are typically not a booming business, as the four largest toy companies in the U.S. accounted for 87% of the total toy sales in 2012. Many independent and smaller stores are either going out of business or are being bought up by the bigger stores. Combine that with the 2008 economic downturn, and it is amazing "Happy Up" is still around.
To help their business after 2008, the owners of "Happy Up" started hosting free game nights at schools and retirement centers. They were so popular their schedule was booked months in advance. This endeared them to the community. Also if you have ever been in one of their stores, there is a good chance they will remember your name and make you feel at home. The owners and employees try to know their customers and it really paid off when they got into financial trouble.
When they announced they would have to close the stores because the note was being called, the community on their own set up a crowdfunding account for the toy stores and raised $82,000 on crowdtilt.com. People all over town were calling and coming into the store, begging the owners to not close. The first year after reorganizing they made a profit. Plus this year they should come close to $1,000,000 in sales. The business is as solid as it has ever been. The owners have a ton of experience and can see a clear path to growth. It will take a few more years, but they will get $1,000,000 in the bank.
Almost Any Business Will Do
Properly using all of your available assets can help almost any kind of business succeed. "Happy Up" had the support of the community which played an instrumental role in their survival and success, but this would never had happened if they had not given to the community first. The SBDC also provided advice and guidance on many issues that helped "Happy Up" become a successful business.
Here is an example of a business successfully fighting the economic environment and industry growth trends, and by using great execution it is still creating financial independence for the owners. Yes, you should consider the trends if all options are open to you for the type of business you want to start. However, almost any type of business with good execution can operate under the radar and help to get you $1,000,000 in the bank!
If you are in the St Louis area, stop by and say hi or visit them at their website. http://happyupinc.com/
E-mail me anytime with comments info@onemillioninthebank.com.
(If you liked this post please share it with others. There is no reason your friends cannot have one million in the bank too. Also if you are not signed up, then please do to get updates on the book and other special, announcements. A Facebook LIKE would be appreciated too. https://www.facebook.com/OneMillionInTheBank Thank you very much-Mike)