Dropout Food Truck Millionaire Part II
Summary of Part I
You need to go back and read Part I. Not only will you see how Joe Woodel turned his life around, but you will see how he financed his business with very little money and a lot of creativity. He gives you a model to pattern. It is not a get rich quick plan, it took a lot of hard work for Joe to put himself in the position he is in now to have great success.
(click here to see Part I)

The Food Truck
The truck rolled out in July 2013 for business. Joe told me one of the scariest days of his life is when he drove the food truck out the first day. He said he was, "Scared to death that people would not like his food." Plus he told me there was no plan B. They had no savings, owed money to the WBDC, the credit card companies and Uncle Norman. He also shared with me that he felt a little sick to his stomach just a little, if he let himself think about it too much. Joe told me as the day went on he got busy. People were great and he got lots of compliments. And he remembers thinking on the way home after his first day, "I think we can do this."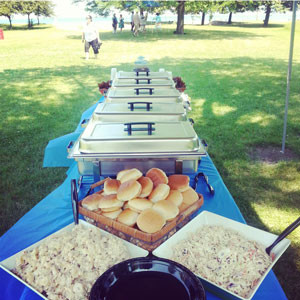 The Catering
The catering has continued since the beginning. Joe told me when they started they seemed to get bigger orders. Now the orders seem to be smaller, but it is still good.
The Restaurant
Joe and Lauren never really thought of a restaurant location, they just assumed it would cost too much to get set up, but then a funny thing happened. They were approached by a friend that Joe had met on the barbeque completion circuit. He had a small restaurant but was ready to quit, he just wanted out. He told Joe that they could have everything including all the furniture and kitchen equipment for $5,000 and take over his lease. Of course they said yes, now they had a restaurant too.
The Economics
We have already discussed what it cost to get into business and how they did it as inexpensively as possible, but still took a great risk with their personal money. They may have preferred this as they boot strapped their way in and it allowed them to keep 100% of their business, but an alternative could have been to have a financial partner for a part of their business. They would have had to give a part of their business away for the investment, but they would not have as much at risk personally. Here is what it looks like:
2013- Catering only $60,000 gross revenue- break even, but also paid down their expenses.
2014- Food truck and catering $650,000- Joe did not know, he said maybe only $30,000 or a little more. But on further examination, they paid back all the loans they had, they own the food truck free and clear, and they bought the restaurant and got it started. I am guessing it really made them at least $100,000-$150,000 if you had not had all those non-recurring expenses.
2015- Food Truck, Catering and Restaurant $1,000,000 + in gross revenue projected with an expected profit of at least 35% ($350,000)
The Business Plan
I was surprised they never really had any kind of a business plan. Joe told me he is pretty sure that Lauren did some kind of a business plan for the catering company, but just because she needed something for the bank.
I really feel they need to pay serious attention to a business plan. It is never too late and they are in effect running 3 businesses. I feel it would probably be worth the time to maybe try and find some advice from SCORE, the SBDC, or the WBDC. Since they are a woman owned business and the WBDC in Chicago is probably the best funded and staffed Women's Business Center in the United States they should take advantage of it.
The Marketing
Joe said their marketing budget was -$4, which he interpreted it to me as meaning they only do free advertising. They have their website, Facebook, and word of mouth. They may want to consider other avenues of advertising to compliment what they are doing now.
Where do they go from here?
They don't know. Joe told me it has all come so fast, but they have tried to be smart and pay off all their debts and plan to grow at a rate they can handle it. They have considered a second truck but that is tough with startup costs and finding the right person to operate it for them. Plus there are only four places in Chicago recognized as a place food trucks can set up. He said he is much more inclined to open a second small restaurant. He felt the restaurant was much easier to control and did not demand your attention constantly. According to some of the articles listed below, many people start with a food truck and use it as a stepping stone to a restaurant. But Joe told me they are not completely sure yet of which areas to try and grow their business, but so far it is a dream come true.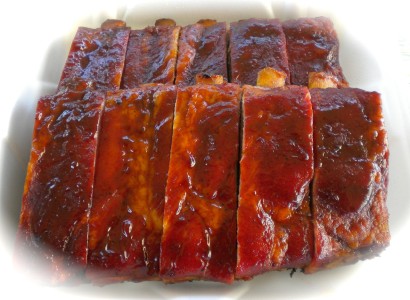 It is too early to call Joe and Lauren millionaires yet, but they have laid the foundation solidly. They have paid all their debt back, and they are about to have their biggest year ever. They could easily be millionaires in just a very few years.
Could you become a food truck millionaire?
As you can see, Joe took some detours before he became a barbeque expert. He also had a partner all along the way too, his wife. Their business is also not just the food truck. But he keptlearning and stepping out a little more and a little more as he became more confident and knowledgeable. If you think this is how you want to become a millionaire, or with some other business, it all starts with doing your homework and research. No two paths are the same. Just keep moving forward.
Other Resources
If you are interested in a food truck business, I suggest you visit these websites and start with the articles I listed:
Why Food Trucks Fail- http://foodtruckempire.com/interviews/fail/
50 Food Truck Owners Speak Out http://foodtruckr.com/2013/10/what-i-wish-id-known-before-starting-my-food-truck/
Food Truck Economics http://blog.priceonomics.com/post/45352687467/food-truck-economics
Please Sign Up
If you have not signed up yet, please do. Your name will never be sold or shared. You will be the first to know when all three books are available. They will all be released at the same time in about 60 days:
One Million in the Bank
: How to Make $1,000,000 with Your Own Business, Even if You Have No Money or Experience
(will be available on Amazon)
Veteran's Guide to One Million in the Bank
(will be a free PDF or available on Kindle)
Women's Guide to One Million in the Bank
(will be a free PDF or available on Kindle)
Note:
For my long time followers, this is my first book/s, and I have honestly thought I was very close many times to being ready to publish. I really am in the final stages now. The book is at the proofer (2 weeks), then the layout and design (4-5 weeks), put the cover on it and publish. That is about 60 days, maybe May 1st.